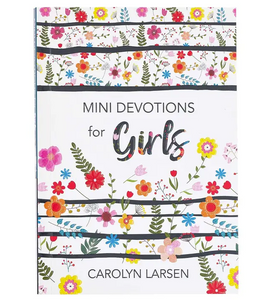 Mini Devotions For Girls
The tween years can be a tumultuous and uncertain time for young girls and often times they need more encouragement than parents realize. The Mini Devotions for girls is a devotional book that might help them through this challenging time. The tween approved cover is white and decorated with a fun multicolored floral design. UV varnish is applied to the flowers to add little shiny bursts of color. A title printed in clear black letters, is decorated with even more flowers. Mini Devotions For Girls Mini Devotions for Girls offers 180 short and sweet devotions that will help busy girls slow down and take time to grow closer to God. The writing style is relaxed and aimed at young girls. The devotions focus on typical tween-girl issues while at the same time modeling how to live for God.  Topics include: Second Chances, Fiery Faith, Make a Difference, Do Your Job, The Real You and many more.
Dimensions: 6″ x 4.3″ x 0.4″
We ship across the US!
---
We Also Recommend
---