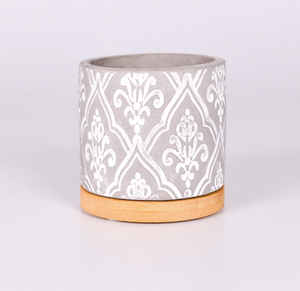 Bourbon Royalty 3oz Damask Stone Candle
This pattern is a true classic that appeared during the mid-14th century in Europe. We were inspired by it history and wanted to create a piece representing this recognizable pattern. Our damask design features a two-color contrast with a solid wooden base sure to fit any style. 
The approximate burn time is 7 to 11 hours.
Perfect for bathrooms and small bedrooms.
Single Wick
Vieux Carre - Wander through the old square in New Orleans to encounter an amazing blend of tea, amber, patchouli with a sweet hint of cotton candy.
Zydeco Amber - Like music to your ears.  Your nose will tingle with aromas of deep musk, amber and sandalwood with hints of cedar and sage.
We ship across the US!
---
We Also Recommend
---