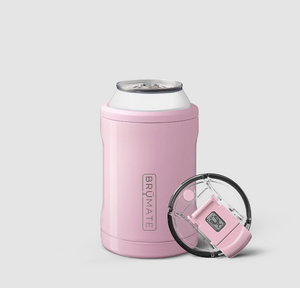 Blush Brumate Hopsulator Duo
Hopsulator Duo
Blush | 12oz Standard Can
Keep your 12oz cans ice-cold, or use it as a tumbler with the included leakproof lid. Leakproof.  Cup holder friendly. 
Height: 4.75 inch
Circumference: 9.42 inch
Diameter: 3.14 inch
Capacity: 12oz

MOST STANDARD 12OZ CANS
Miller Lite, Craft Beers, & Coors Lite 12oz cans

Do not use MCT or Coconut Oil in your BrüMate products as it can damage the integrity of the leakproof seal and Tritan material.
We ship across the US!
---
We Also Recommend
---